Goat's Milk Lotion
"Your lotion is great, and I am the perfect person to test it on as I have the driest skin of anyone on earth (at least that's what every manicurist I've ever used says!)"
Cappy W.BOCA GRANDE, FL
"I swim in my pond and wash with your soap. I feel way cleaner this way than I ever do in the shower!"
TriciaWOLCOTT, VT
"HELP we've used up the entire roll of bug balm in three days! It works against the bugs in the field that are murder on their sheaths. Everyone in both barns including the borders is using it, but now we're desperate because we're out!"
Liz B.PROVIDENCE, RI
"I absolutely LOVE the lip balm...The texture, scent, supreme packaging and larger size are all absolutely EXCELLENT! I put it on even when my lips are not at all chapped because it feels so comforting"
LeslieEDEN, VT
"Your lip balm is exceptional!... What I really like is it is easy to apply and stays on so long."
Maggie W.CRAFTSBURY, VT
"I just wanted to let you know that your Shampoo is GREAT! I only use conditioner (now) about once a week!....that is amazing and my hair is very shiny! Thank you for this great product."
GerriBERLIN, MD
"I never got excited about soap before I started using yours. Now your goat's milk soap has replaced maple syrup as my preferred Vermont gift to give!"
Sharon S.WATERBURY, VT
"Elmore Mountain Farm Soaps last longer than most commercial soaps and the aroma doesn't fade. They really are excellent."
DominicELMORE, VT
"You have wonderful things. I am addicted to the soap and REALLY addicted to the shampoo!"
FernYORK, ME
"If you are prone to heel cracks as I am, Foot Favor has been the answer. The deodorant stick applicator bathes the heels in lovely scented balm. I use it after showering and before bedtime. Foot Favor has kept my heels smooth and crack free for well over a year now!"
Ellen T.STOWE, VT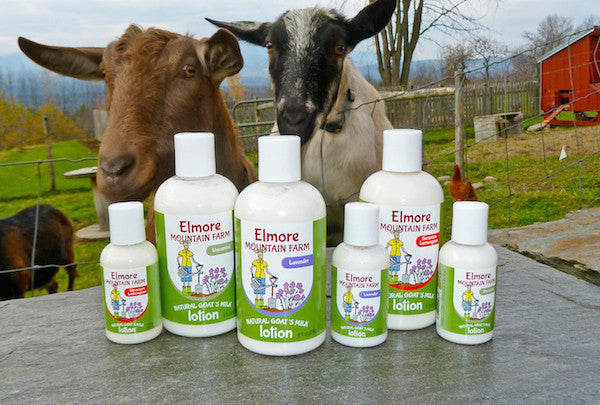 Our Natural Goat's Milk Lotion combines natural plant oils with goat's milk, Vermont beeswax and pure essential oils to create a silky smooth lotion that moisturizes and rejuvenates dry skin.